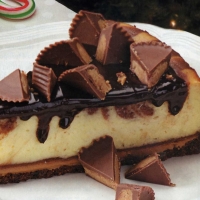 PEANUT BUTTERCUP CHEESECAKE
Chili's Copycat Recipe
1 cup graham cracker crumbs
1/4 cup Oreo chocolate cookie crumbs (
3 cookies with filling removed
)
1/3 cup butter, melted
1/4 cup smooth peanut butter (
not chunky
)
3 (8 oz) packages cream cheese, softened
3 eggs
1 cup sour cream
1 cup sugar
1 1/2 teaspoon vanilla
1/4 cup chocolate syrup
1 cup fudge topping
4 chilled regular size Reese's peanut butter cups
Preheat the oven to 350 degrees. In a medium bowl combine the graham cracker crumbs, chocolate cookie crumbs and melted butter. Press the crumbs firmly over just the bottom of an 8-inch spring form pan. Bake for 6 to 8 minutes.
When the crust is cool, spread the peanut butter in a circle in the center of the crust. (
you may soften the peanut butter for 30 seconds in the microwave to make it easier to spread.
) You don't need to spread the peanut butter to the edge, leave about an inch margin all around. You'll need two separate bowls for the two fillings, one larger then the other. In the larger bowl, with an electric mixer, beat together the cream cheese, eggs, sour cream, sugar, and vanilla until smooth.
Remove 1 cup of the cream cheese mixture and pour it into the smaller bowl. Add the chocolate syrup to this mixture and combine. Pour the larger bowl of filling into the pan and spread it evenly over the crust. Pour the chocolate filling into the the filling and spread it out. Using the tip of a knife, swirl the chocolate into the white filling beneath it. A couple of passes should be enough.
Lower the oven temperature to 350 degrees. Bake the cheesecake for 70 to 80 minutes or until it becomes firm in the center. Remove from the oven and allow it to cool. When the cheesecake is completely cool, soften the fudge topping in a double boiler or the microwave for about 45 seconds, then spread it out evenly over the cheesecake. Be sure to cover the entire surface of the filling.
Unwrap the peanut butter cups and chop them into small chunks. Sprinkle the peanut butter cup pieces and any crumbs over the top of the cheesecake. Chill. Slice the cake 5 times through the middle to make 10 slices.